Tour the garlic & blu bar
Welcome to the garlic & blu bar
let's begin at our new outdoor waiting area.
Your table is ready!
Walk down a vine covered arbor, surrounded by beautiful vegetation and one of a kind decor.
And be greeted by our 800°f wood fired brick oven "Il Forno" where we prepare some of our signature dishes.
There are many rustic seating opportunities outside and inside at the garlic & blu bar.
The blu bar has a beautiful wood burning fireplace, incredible nightly entertainment and the same incredible food as the garlic.
Speaking of fireplaces, the main courtyard at the garlic is not to be missed.
Wherever you are seated, you can count on one thing. Your meal is going to be delicious!

It begins with our fresh baked bread and roasted garlic along with our hand written daily noodle.
Choose from a comprehensive selection of fine wine, Italian beer and specialty martinis.
Now for Executive Chef Michael Perri signature dish Cioppino.
A hearty seafood stew of shrimp, scallops, lobster, clams, mussels, calamari, and fish sautéed in a tomato saffron broth with fresh herbs and seasonings.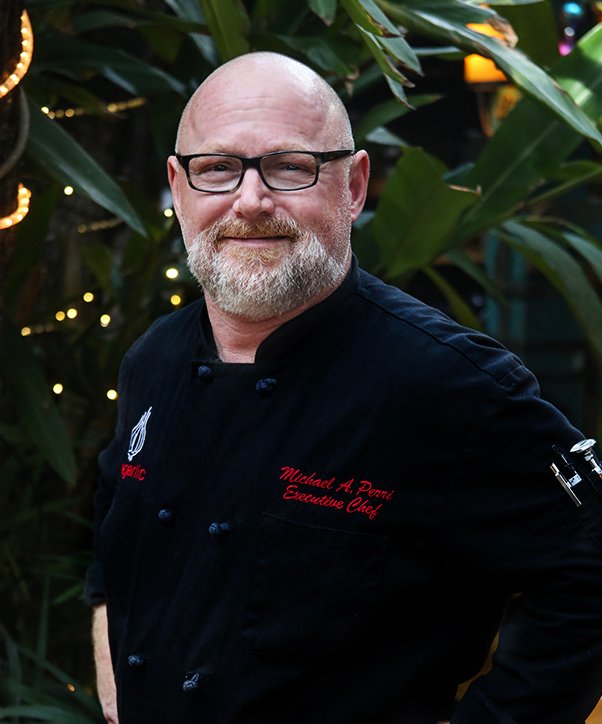 Meet Executive Chef Michael Perri
Decades of experience behind 'rustic Italian comfort food'
Fresh ingredients are fundamental says Chef Perri. Always cook with the highest quality products with the freshest ingredients available for a successful savory dish. 
Remember, you only get out of it what you put into it! 
Still have room for dessert?
After your dining experience, enjoy the eclectic collection of vintage & recycled objects as you explore & listen to the nightly live entertainment.
Before you leave, stop by our gift shop for some truly unique merchandise.
Back through the vine covered arbor...
Back to the real world...